Modern Streetcar Leads to Tucson Bicycle Accidents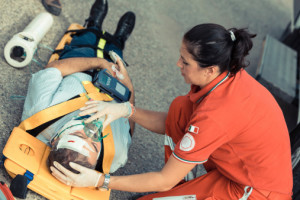 In a survey conducted by Living Streets Alliance, there were 86 crashes documented in relation to Tucson's modern streetcar beginning in August 2012. These accidents occurred as Tucson cyclists attempted to ride alongside or cross the newly laid trolley tracks. The company estimates even more Tucson bike crashes along the tracks, as many riders don't report their injuries or falls, especially when the injuries are minor.
City Statistics on Accidents
The city of Tucson does not keep track of streetcar-related bicycle accidents. As a result, Alliance created the survey as a tool to help city officials identify and correct the most hazardous areas along the trolley route. Currently, residents have debated whether or not cars, bikes and the streetcar can safely coexist in certain sections of the route, such as the North Fourth Avenue shopping district. While Living Street Alliance's survey is self-reported and non-scientific, it does include the cause and location of each crash as well as the severity of injury to the bicyclist.
Common Crash Areas
The Fourth Avenue underpass at Toole Avenue, Fourth Avenue and University Boulevard, as well as the Main Gate Square area top the list of bicycle crash areas. While more than 40 percent of accidents resulted from riders crossing at a bad angle, nearly 30 percent met an obstacle in their path. These obstacles ranged from stopped cars and pedestrians to construction fences. Some bicyclists actually suffered a crash by trying to maneuver around sudden hazards, like people darting in the street or cars abruptly braking.
Steps Taken
To help protect bicyclists, city officials have built streetcar stops in the center of the street, painted green street markings, and hung warning signs. According to the streetcar Project Manager Shellie Ginn, the city is also training operators to not pass bicyclists.
For more than 25 years, Hameroff Law Group has fought for Southern Arizona accident victims and those who have lost a loved one due to another's negligence. Our respected, experienced legal team is personally committed to providing each client high-quality representation. To schedule an appointment with a Tucson personal injury attorney, call (520) 792-4700.